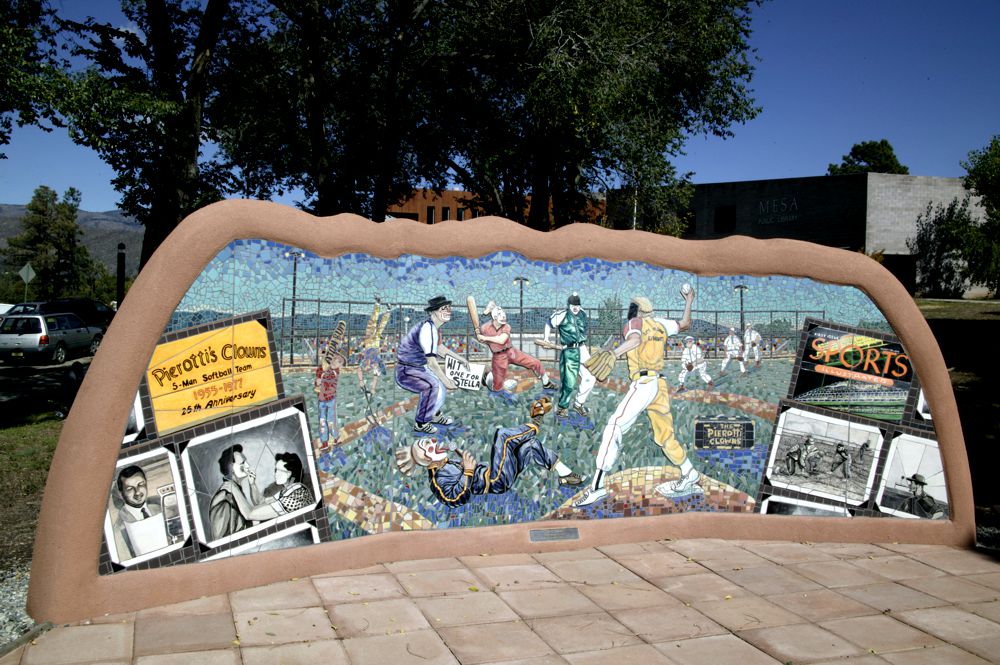 "A Tribute to Pierotti's Clowns"
8'h x 22'l x 3'w
Los Alamos, New Mexico
This mixed-media piece (cinder block wall construction, concrete, stucco, mosaic and handmade ceramic tiles) was commissioned by the County of Los Alamos AIPP program, and is located in front of the Mesa Public Library in downtown Los Alamos, New Mexico.
In 1953, Los Alamos Business owner Lou Pierotti, formed the only 5-man fast-pitch softball team in the nation, known as "Pierotti's Clowns". This team was sponsored by the Los Alamos Kiwanis Club, for the enjoyment of Los Alamos families and the team later became good-will ambassadors for Los Alamos and New Mexico. The Clown Team was featured in six national magazines, including the first issue of Sports Illustrated in 1954. Competing with nine-man teams for 25 years, the Clowns won 177 games and lost only 23, and raised over two hundred thousand dollars for charity. The Clowns never lost a game against any of the five professional teams they played, such as the Albuquerque Dukes, a Triple-A Farm Team for the Brooklyn Dodgers. The success of the five-man team was due in part to the world class athletic skills of the 5 players, the exceptional pitching of Bun Ryan, and the clown antics created and performed by Lou Pierotti, during the regulation softball game.
When artist Susan was first told about the subject matter of this public art commission, she thought it seemed rather unusual…the letter read something like: "We want you to pay tribute to a baseball team that dresses up like clowns. All of the scrapbooks and memorabilia that you need to gather images from, were destroyed in the Los Alamos fire of 2000, but we have video tape of the scrapbooks from a recent museum display" …Many of the photos Susan used for reference were retrieved by stopping the video and taking a picture of the television screen.
During the installation of the artwork in 2002, both Lou and "Bun" were on site often to help out. Lou's son Mike, who had been the "bat boy" for the team, was also there lending a helping hand. Bun Ryan used to entertain the installation crew with stories of his childhood in Leadville CO. One of the favorites was that his mother had been friends with the aging Baby Doe Tabor (of "Matchless Mine" fame), and when she died in 1935, the youthful Bun Ryan was one of the pall bearers at the funeral. Bun's love for baseball started young and he had a reputation as an exceptional pitcher even in his school days in Leadville.
Printed greeting cards available, contact Susan.